Laser Vision Correction / LASIK

Laser vision correction refers to a group of minimally invasive procedures that reshape the cornea with laser energy to correct nearsightedness, farsightedness and astigmatism. Patients are able to achieve with 20/20 vision or better after treatment. These procedures are customized to provide the best possible results for each individual patient, allowing your surgeon to correct the very specific refractive errors that obscure your vision.
Laser vision correction procedures help patients eliminate the need for eyeglasses and contact lenses, a costly and bothersome issue that millions of people deal with every day. By reshaping the cornea, these procedures change the way that the eye focuses light, allowing you to enjoy clear vision.
There are several different laser vision correction procedures available to help patients achieve clear vision without glasses or contacts. Please call us today to schedule a consultation to figure out which laser procedure is best for you.
LASIK
LASIK, also known as Laser-Assisted In Situ Keratomileusis or laser vision correction, is a refractive procedure that reshapes the cornea to correct nearsightedness, farsightedness and astigmatism.
LASIK is the most common type of refractive surgery. Using targeted excimer laser beam energy, the LASIK procedure reshapes corneal tissue to correct refractive errors so that light rays are focused more precisely on the retina to produce clear, sharp vision. Patients who choose to undergo LASIK achieve clear vision without the need for glasses or contact lenses, while also benefiting from minimal downtime and little to no post-operative discomfort.
Candidates for LASIK
LASIK is considered a safe procedure, yet it is not ideal for everyone. A thorough medical evaluation of the patients eyes will be performed in order to determine if the LASIK procedure is appropriate, or if the patient would benefit from another type of refractive procedure.
Candidates eligible for the LASIK procedure include patients who meet the following requirements:
Are over 18 years old

Not pregnant or nursing

In general good health

Has had stable vision for at least six months

Has a healthy cornea thick enough for a flap

Has refractive errors that fall within the treatable range
It is also important for patients to fully understand the details and risks of the procedure, and maintain realistic expectations as to the outcome of the procedure.
The LASIK Procedure
LASIK is performed on an outpatient basis using only numbing eye drops to reduce any potential discomfort during the procedure. The entire surgery takes less than five minutes to perform, although patients can expect to spend a few hours at the office. If requested, patients can receive an oral sedative prior to surgery to reduce any anxieties they may have.
During the LASIK procedure, the patient will lie down in a reclining chair as the doctor positions the laser precisely over the eye. A speculum will be used to keep the eye open, the eye is cleaned and numbing drops are placed. A corneal flap is created with either a microkeratome blade or a femtosecond laser. The surgeon gently lifts the surface of the cornea aside so that the excimer laser can then reshape the curvature of the cornea.
The excimer laser then delivers customized pulses of light energy based on each patient's prescription. The measurements for customization are determined prior to surgery, with the precise positioning confirmed prior to the start of the procedure. The second eye is treated right after the first, upon which patients will be given protective shields to keep the eyes safe from bright lights after LASIK.
Recovery After the LASIK Procedure
After LASIK, patients will rest in the office for a short time before having someone else escort them home. Medication may be prescribed to relieve any discomfort, but most patients tolerate this procedure well. The doctor will likely recommend resting at home for a few hours, with most patients able to return to work and other regular activities the next day. Certain strenuous activities need to be avoided for at least a week.
The doctor will provide specific post-operative instructions to ensure proper healing and to help patients achieve the best possible vision.
Vision Results from the LASIK Procedure
Though it may take several months for full results to develop, significant visual improvement is noticeable immediately after the LASIK procedure. Most patients achieve vision that is 20/20 or better, and are able to reduce or eliminate the need for glasses or contact lenses.
While patients can achieve clear vision from LASIK, this procedure does not prevent the development of presbyopia, the age-related vision changes that occur after the age of 40. Many patients will need reading glasses for this condition, but their distance vision will remain clear.
Risks and Complications of the LASIK Procedure
Any surgical procedure carries the possibility of risks and complications. LASIK is considered safe for most patients who are considered ideal candidates. While rare, some of the complications that may occur, after the LASIK procedure, include:
Undercorrection

Overcorrection

Astigmatism

Dry eyes

Flap complications

Infection

Sensitivity to light

Halos

Night glare

Compromised vision
To learn more about LASIK and to find out whether or not this procedure is right for you, please contact us to schedule a consultation with one of our experienced doctors.
---
WaveLight® Allegretto Wave® Eye-Q Laser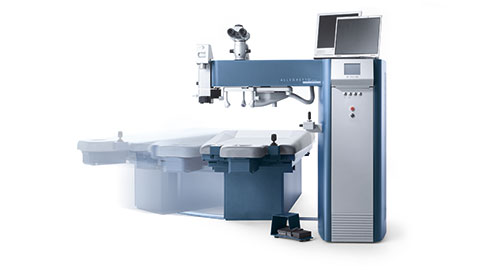 The WaveLight® Allegretto Wave® Eye-Q Laser procedure uses advanced wavefront technology to compensate for the curvature of the cornea and preserve its shape, which effectively reduces side effects such as poor night vision, glare and halos. Each procedure is customized for the refraction and corneal curvature of each patient.
The WaveLight® Allegretto Wave® Eye-Q Laser for refractive surgery reduces the risk of formation of spherical aberrations in the peripheral cornea, which can cause difficulty with night vision and/or middle-distance focus.
Previous laser vision correction techniques focused only on the centered front of the cornea, resulting in a flattened circular area that ended abruptly and created spherical aberrations that could lead to unwanted side effects. The WaveLight® Allegretto Wave® Eye-Q Laser tracks pupils to automatically center and provide centered ablations.

---
IntraLase®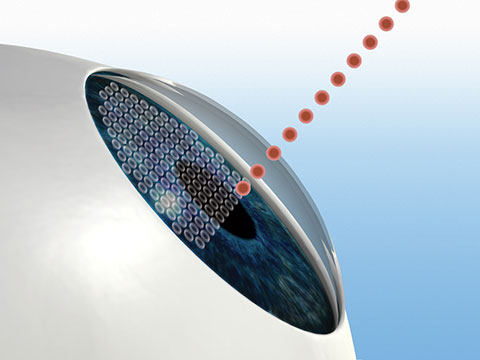 The IntraLase Method Means Truly Blade-Free LASIK
The IntraLase Method is a 100% blade-free approach to creating your LASIK flap — the thin flap of tissue that the doctor creates to perform your LASIK procedure. The IntraLase Method can only be performed using the IntraLase Laser. Millions of procedures have been performed safely and effectively using the IntraLase Method. With the IntraLase Method, you can have a LASIK procedure that's 100% blade free, exceptionally advanced, and has been shown to improve outcomes for more patients.
Amazing Technology
With the IntraLase Method, tiny pulses of laser light, a quadrillionth of a second each, pass harmlessly through the outer portion of your cornea and form a uniform layer of microscopic bubbles just beneath the surface of your eye. The IntraLase flap creation process takes about 15 to 20 seconds per eye and a total of 10 minutes for the entire LASIK procedure. When it's time for your LASIK treatment to be performed, your doctor easily lifts the flap to apply the LASIK treatment.

Outstanding Results
The IntraLase Method also delivers outstanding results and has been shown to improve outcomes for more patients.1 In a clinical survey of LASIK patients who had their LASIK flaps created using a blade in one eye and the IntraLase Method in the other, the vision in the IntraLase-treated eye was preferred 3-to-1 (among those who stated a preference).2,3
Tanna M, Schallhorn SC, Hettinger KA. Femtosecond laser versus mechanical microkeratome: a retrospective comparison of visual outcomes at 3 months. J Refract Surg. 2009;25 (7 Suppl):S668-71.

Durrie DS. Randomized prospective clinical study of LASIK: IntraLase versus mechanical keratome. Subsets presented at: Meeting of the International Society of Refractive Surgery of the American Academy of Ophthalmology; November 14-15, 2003; Anaheim, CA; American Society of Cataract and Refractive Surgery Symposium; May 1-5, 2004; San Diego, CA; Refractive Surgery 2004; International Refractive Surgery: Science and Practice; October 22-23, 2004; New Orleans, LA; American Society of Cataract and Refractive Surgery Symposium; April 15-20, 2005; Washington, DC.
Mahdavi S. IntraLase: coming of age. Cataract Refract Surg Today. 2005:117-20.
Additional Information

Note: These files are in PDF format. If you do not have Adobe® Reader® on your computer, you can download it for free by clicking here.
IMPORTANT SAFETY INFORMATION
The FS and iFS Laser systems are ophthalmic surgical lasers indicated for use in patients undergoing surgery or treatment requiring the initial lamellar resection of the cornea. Contraindications may include corneal edema, glaucoma, and keratoconus. Risks and complications may include corneal pain, flap tearing, and epithelial ingrowth. Consult with your eye care professional for a complete listing of contraindications and risks. U.S. Federal Law restricts this device to sale, distribution, and use by or on the order of a physician or other licensed eye care practitioner.
©2010 Abbott Medical Optics Inc. Unless otherwise specified, all product names appearing in this Internet site are trademarks owned by or licensed to Abbott Laboratories, its subsidiaries or affiliates. No use of any Abbott trademark, trade name, or trade dress in this site may be made without the prior written authorization of Abbott Laboratories, except to identify the product or services of the company. 2010.05.20-IL2000
To learn more about our Ophthalmology Services, please call us to schedule an appointment at 713.473.5715!