You Can be Your Child's Hero by Scheduling Her Routine Eye Exam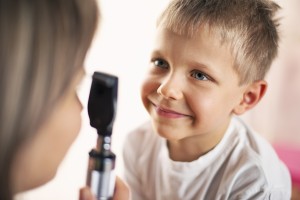 Routine eye exams are important for every member of your family. The yearly exams that are performed may vary based on the age of the individual and their individual needs, but every single one holds a lot of value. Children should have their eyes examined before they start school and every year after that. Since we are weeks away from the beginning of the upcoming school year, there is no better time to discuss why children to see the eye doctor and how they may be telling you with subtle clues that their eyesight has diminished.
Eyesight Affects Learning
Studies have shown that good vision is part of a strong foundation for learning. Children who cannot see text on the whiteboard or in their textbooks are at an immediate disadvantage. This is especially crucial in young children who tend to have a strong desire to learn and an appreciation for classroom learning. Poor vision can quickly diminish the willingness to engage in reading and other tasks that are required of students on a daily basis.
Eye Exams See Beyond Apparent Vision
The standard eye exam will include a vision check that observes how a child sees objects at a distance and up close. However, there are additional eye problems that may be identified during early childhood exams. These include instability in the eye muscle that allows the eyes to wander or cross. A child's inability to perceive color may also be detected by the eye doctor, as can eyelid drooping and a lazy eye. Most of the conditions that affect children can be easily treated with corrective lenses or by strengthening the non-dominant eye. In cases of severe ptosis, or eyelid drooping, a pediatrician may recommend surgical repair of the affected eyelid.
Children Give Clues
Children aren't always great at verbally expressing how they feel. A young child may not have the ability to communicate that they cannot see well; they may not even realize that they can't see well because their vision is normal for them! What children do, though, is give subtle clues. For example, a child who is nearsighted may avoid reading or coloring. A child whose intermediate or distance vision is affected may tilt his head while watching TV.
Ideally, parents won't have to pick up on random clues about their child's eyesight. You can schedule your children's eye exams in our Pasadena, TX office at (713) 473-5715.
Eye Exam
Category:
---