Pumpkin: Superfood with a Smile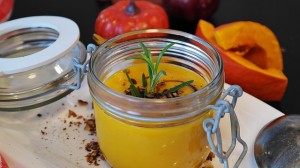 Pumpkin is a scrumptious treat that we love to see on our plates during Thanksgiving dinner. The widespread love of all things pumpkin continues to spread, and now our offices and homes seem permeated with the warm, inviting scent of this Fall fruit. Pumpkin isn't just yummy, it's also good for us. This means we can celebrate with an extra half-slice!
Pumpkin support health and wellness in a number of ways, not just by giving us a sense of seasonal pleasure on our plate. The high-fiber content in this fruit, along with potassium, helps us keep our weight in check. That is, if we aren't indulging in sugary pumpkin treats. More on that later. First, we want to point out the wonderful ways that pumpkin supports eye health.
Vitamin C. This vitamin is good for the skin, blood vessels, and for collagen support. We need collagen in the cornea of the eye, and we need the cornea to see clearly. Eating pumpkin, as well as other C-rich foods, is a win-win.
Vitamin A. More directly, it's beta carotene in pumpkin that feeds the eyes. Just like carrots, pumpkin's rich color alerts us to its beta carotene content. In the body, this converts to the appropriate amount of vitamin A that we need to function in a healthy manner. In the eyes, this vitamin helps to maintain a protective barrier across the surface. Researchers have found that adequate levels of vitamin A also have preventive action against macular degeneration.
Lutein and zeaxanthin. These are antioxidants that help protect the eyes against damage from certain wavelengths of light.
Zinc. In studies, participants supplemented with zinc exhibited greater protective factors against macular degeneration and night blindness.
Real Food offers Real Benefits
We are surrounded with temping pumpkin treats at every turn. If you're interested in getting all the value you can out of your indulgences, reach for real food. Sad to say, it wouldn't seem as though those pumpkin spice lattes have any real pumpkin in them. However, you can make a homemade pumpkin chai latte without much hassle, and roasting up a batch of pumpkin seeds to snack on takes less than an hour.
Our wish for our patients is that they feed their senses and their eyes with the healthy pleasures of Autumn!
Eye Care
Category:
---